Internationellt Shakespeare-symposium
Den 14 september 2020 kl 15:00
Välkommen på Klockriketeaterns Shakespeare-symposium i SFV-huset G18 på Georgsgatan i Helsingfors!
Vi diskuterar Shakespeare då och nu, på de internationella teaterscenerna samt i Finland. Du behöver inte ha någon förhandskunskap om Shakespeare för att delta.
PROGRAM & TALARE
kl 15:00 Symposiet börjar

DAN HENRIKSSON – Konstnärlig ledare, Klockriketeatern
- Välkomsthälsning
NIKO SUOMINEN – Shakespeareforskare, lärare vid Tammerfors Universitet (Näty)
- Shakespeare då och nu
CARL ALM – regissör, Klockriketeatern
- Tankar kring att regissera Julius Caesar
OTSO KAUTTO – konstnärlig ledare, Tampereen Työväen Teatteri
- Om processen att regissera Hamlet
- Paneldiskussion

Diskussionen modereras av EVA BUCHWALD – dramaturg, Finlands Nationalteater

I diskussionen deltar också JOHN CAIRD – regissör, the Royal Shakespeare Company, Storbritannien
kl 17:30 Kaffe och tilltugg
kl 19:00 Föreställning

Her Infinite Variety – Women of Shakespeare in Word and Music
med ELINA MUSTONEN – skådespelare och musiker
i regi av JOHANNA FREUNDLICH
kl 20:00 Diskussion efter föreställningen

tillsammans med Mustonen och NELY KEINÄNEN – dramaturg, Shakespeareforskare

Plats: Festsalen i SFV-huset G18, Georgsgatan 18 i Helsingfors
Språk: Engelska, med möjlighet att ställa frågor på olika språk
Vi ser till att hålla säkerhetsavstånd och god hygien,
samt delar ut munskydd vid dörren.
---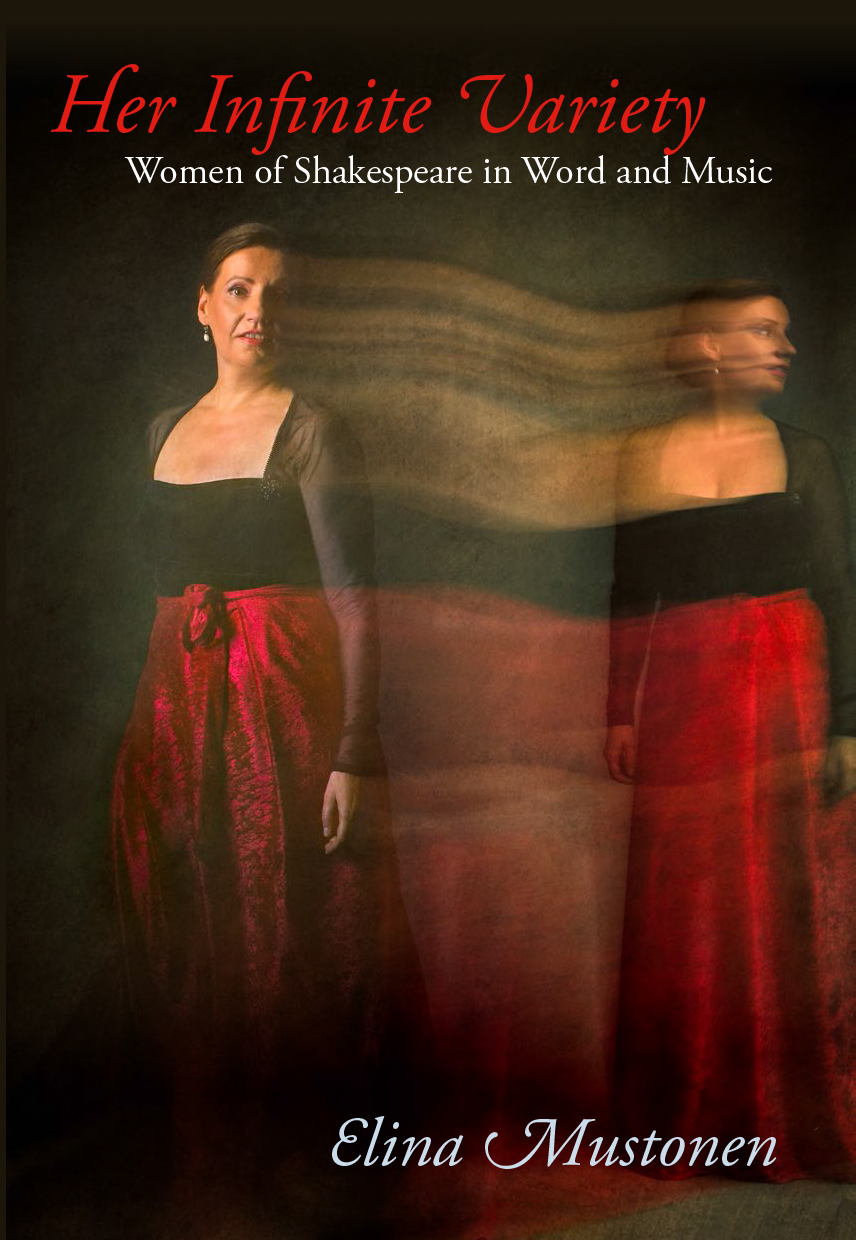 Her Infinite Variety
Women of Shakespeare in Word and Music

On stage: ELINA MUSTONEN
Dramaturgy and direction: JOHANNA FREUNDLICH, NELY KEINÄNEN, ELINA MUSTONEN
Music selected and arranged by: ELINA MUSTONEN
The title of Elina Mustonen's performance is taken from Enobarbus' speech about Cleopatra: "Age cannot wither her, nor custom stale / Her infinite variety" (2.2).
The Egyptian queen's irresistible charms allow her to "make hungry / Where most she satisfies."
We interpret this phrase more broadly, seeing it as a fitting label for the wide range of female roles in Shakespeare's plays. Shakespeare gives life to women of all ages, from young maidens being wooed, to young brides, wives, mothers, and female friends.
We have selected key moments from a number of Shakespeare's plays touching on the infinite variety of female roles in Shakespeare, interspersing them with pieces played on the virginal written by Shakespeare's contemporaries. You will hear a wide range of emotions both in words and music — love, desire, anger, ambition, frustration, fear, humor.
We hope this program gives you a sense of the infinite variety not only of Shakespearean women, but also of the infinite beauty of Shakespearean verse.